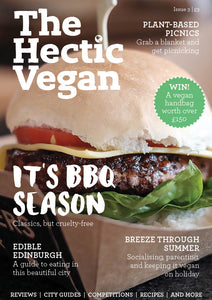 The Hectic Vegan
The Hectic Vegan Magazine Issue 3
Regular price
£3.00
£0.00
Unit price
per
Tax included.
Shipping
calculated at checkout.
A physical copy of The Hectic Vegan Magazine Issue 3
THIS ISSUE CONTAINS:
A VOICE FOR THE VOICELESS – Emma Letessier meets inspirational vegan artist Sara Sechi

CITY GUIDE: EDINBURGH – Discover the vegan options in this popular foodie destination

VEGAN VELO – Mick Walker uses endurance cycling to raise funds for vegan charities

BREEZE INTO SUMMER – Giles Cooper offers tips on how to handle non-vegans over the summer months

NOURISH, FLOURISH, THRIVE – Many vegans make choices that benefit both animals and humans, but what happens when we neglect to show this compassion to ourselves?

THE SCOOP ON VEGAN ICE CREAM – A round-up of 10 vegan ice cream options for those sunny days

VEGAN PARENTING: THE BASICS – Get the basics on surviving being a parent to a vegan kid this summer

A GREEN JOURNEY – Follow Amber's progress as she starts her new vegan journey

PLANT-BASED PICNICS – Get loads of ideas to create the best vegan picnic this summer

READY, STEADY, GRILL! – Fire up the barbecue and get your friends together for Jude Applin's easy vegan barbecue that can be whipped up in no time

PRODUCTS WE LOVE – our selection of the vegan products we can't live without this summer

NOT-SO-LAZY SUMMER DAYS – Dave Sheahan has advice for vegans on how to avoid the summertime blues

VEGFESTUK LONDON – A look at the London vegan festival taking place in October

VEGFESTUK TRADE – The first trade show for people running, or starting, a vegan business

Plus reviews, recipes, and more.
---