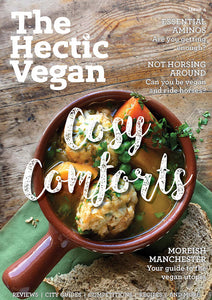 The Hectic Vegan
The Hectic Vegan Magazine Issue 4
Regular price
£3.00
£0.00
Unit price
per
Tax included.
Shipping
calculated at checkout.
A physical copy of The Hectic Vegan Magazine Issue 4

THIS ISSUE CONTAINS:

VEGANS MEAN BUSINESS – Tim Barford looks at what's in store for vegan businesses and festivals in 2018.
CAUSE FOR CELEBRATION – For Prue's birthday she asked her friends to watch a movie about animal exploitation.
TIME FOR A TREAT – A selection of our favourite vegan products for those cold nights in.
STARTING THE JOURNEY – Margaret Gambardella tells us what she wishes she knew at the start of her vegan journey.
VEGAN CREATIVITY – Does a plant-based diet increase your creativity? Absolutely, says Jo Hodson.
BEST NUTRITION QUEST – How to be a healthy vegan with nutritionist Ruby Berridge.
CITY GUIDE: MOREISH MANCHESTER – Vegan Olive is spoilt for choice in the vegan utopia that is Manchester, here she gives us a tour of her favourite spots.
GREEN GUARDIANSHIP – Kate Berridge tells us why we must remember our connection to the Earth.
DROP THE SCARE TACTICS – Angry vegans are wasting one of the biggest opportunities says Toby Channon.
AUTUMN COLOURS – Nicole shows us a selection of beauty products perfect for the autumn season.
THE TRIALS OF A VEGAN HORSE GUARDIAN – Can you be vegan and ride horses? Jane Antcliff-Wilson gives her views on living with these amazing and magical beings.
A PASSION FOR BUSINESS – Entrepreneur Giles Cooper gives us some pointers for setting up a vegan business.
ESSENTIAL AMINOS – "But what about protein?" Essential Aminos is where we should be looking says Chris Deojee.
BADGERED TO DEATH – Justin Kerswell tells us why the only ethical response to the "cull" is to dump dairy.
MY VEGAN STORY – Alida Gulamhussein tells us why she went vegan and how it started with yoga.
REVIEWS – A review of Graham Burnett's book on permaculture.
Plus more reviews, recipes, and more!
---